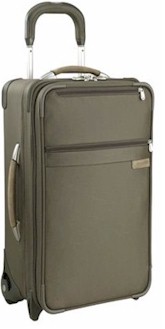 Search Brands >>> Briggs &Riley >>> Briggs & Riley luggage Specials >>>

Carry-On Superlight Uprights
These Superlights are the lightest in there class and they are built to last. The Outsider® handle provides flat packing and these cases are perfect for a 2-4 days of travel. The Smartlink™ system allows you to attach a second bag for easy transport. An Outsider® pocket is perfect for quick access items like an umbrella. And the snap-in, removable waterproof pockets are perfect for toiletries.
On the Outside, there's a trademarked Outsider® handle that provides a flat packing surface and the new one-touch expansion system. Some editions to the collection include the rounded soft-touch telescopic handle made of 100% aircraft-grade aluminum that locks in the up or down position. The Outsider® pocket provides even more room for packing. The bottom skid plate protects the case from curb scuffing. The side and bottom handles makes for easy lifting. And there are quiet-glide, wide profile wheels. Also the 2520D ballistic, self-repairing, fabric resists wear, water, dirt and abrasions. ABS corner guards are impact-resistant and all cases are equipped with ergonomic YKK Racquet Coil zipper pulls that shape to fit your fingers. All these features found throughout the new Baseline collection.
Available in Chocolate, Black and Olive.




In the Inside, the inside garment securing panel keeps clothing in place and minimizes wrinkling. The snap-in removable waterproof pocket is perfect for toiletries, makeup etc...

18" Carry-On Superlight Upright
#U418L 18x14x8.5" 269.00go even lower
20" Carry-On Superlight Upright
#U420L 20x14x8.5" 289.00-sold out-
22" Carry-On Superlight Upright
#U422L 22x14x8.5" 339.00-sold out-
BRIGGS BASELINE SERIES:

Customers Review Baseline
Top Baseline Highlights
Other Briggs Series...
Transcend sporty & lightweight
@work professional