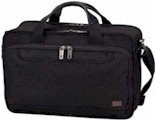 Swiss Army >>> Architecture 2.0 Briefcase Collection
Designed for a new era in business, Architecture™ 2.0 blends intuitive organization, unsurpassed protection and convenient mobility together in this extraordinary business case collection. Bold lines and rich styling communicate the desire of today's business professionals and deliver the perfect style for every business venue, from Main Street to Madison Avenue.
>>> Swiss Army has a new promotion starting ..