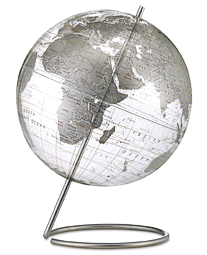 Crystal Marquise (Silver Land)
Clearly beautiful. Advanced technologies led to the creation of this magnificent design. The colorful land cartography of this 12" diameter "crystal clear" ocean globe is enriched by the shine of its custom designed stainless steel base. There are two globes in this collection, easily distinguished by the blue or silver land colors. Both add a clear view of the world to any home or office.
Diameter: 12" (30 cm)
Height:16" (40 cm)
Weight: 3.0 lbs. (1.4 kg)
Model Number: 80506 retail 165.00 (rpl price)
Also available in Blue Land
Model Number: 80505
Order Toll Free: 877 370-2353
We carry the complete line up of Replogle:
Replogle Desk Top Globes Replogle Small Globes Replogle Medium Globes Replogle Large Globes
We stock for immediate shipment.
Shipping is Free within the Continental USA and No sales tax if outside Michigan.
Order on-line Today. Also you can call Toll Free (877) 370-2353 for friendly staff. London Luggage Shop (located in Detroit, Michigan) is an authorized dealer and has been delighting customers for over 50 years.