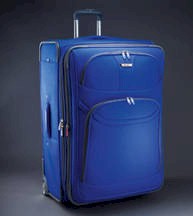 Search Brands >

>

>Delsey Luggage >>
HELIUM

Fusion Lite 2.0 Series


Delsey Luggage has redefined the term Lightweight in the luggage industry. The HELIUM lines are up to 40% lighter than any other luggage available on the market today. In keeping with this new standard, Delsey has created the Fusion Lite 2.0 series. The Fusion Lite 2.0 series is fully featured. The outside material is constructed of a durable EverLast™ material. The frame is made of lightweight fiberglass. And on the 25" and 29" there's an ingenious built-in overweight indicator: pack your case, pull up the handle, if the indicator is red (as shown) your case is over 50 pounds. Available in Black and Blue.

Other Delsey Series...
Helium Breeze popular
Helium 250 GX value
Helium Pilot strongest
Meridian Plus hardsided
Airline Luggage Restrictions
Be smart before you buy!