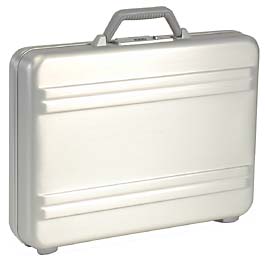 Brands >> Zero Halliburton >> Zero Halliburton Attache Cases >>

Zero Slim Line in 3 sizes.
These 2 sizes are lighter weight and sleeker in overall dimensions than the Zero Halliburton's other attaché lines. Great for the business executive. Illustrated in Silver. Also comes in Gun Metal finish.
In the Inside, this piece has room for your business folders. Organizational pockets and fan file. Interior black leather lined.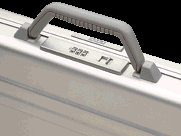 On the Outside, this piece is made of aluminum that Zero Halliburton is known for through out their line. Quality found in handle and combination locking system. >>> a new promotion on Zero Halliburtons starting ...
4" Slimline 18x13x4" S4

in Silver 285.

00

Gun Metal 295.

00

3" Slimline 18x13x3" S3

in Silver 275.

00

Gun Metal 285.

00

Small Slimline 16.5x11.25x3" SE3

in Silver 265.

00

Gun Metal 275.

00
Order on-line Today. Call Toll-Free (877) 370-2353 for friendly staff.
Also all Zero Halliburton pricing includes Free domestic shipping and more. No sales tax if shipped to anywhere outside the state of Michigan. On-line ordering is of the highest level secure format. We have been in business for over 50 years and offer 30 day Money Back Guarantee. We also stock and ship out immediately. All Zero Halliburton cases are backed by Manufacturer's Lifetime Warranty.