Ingenious Design, Extraordinary Success. Rimowa is the pioneer of the development of light-weight luggage. The company founded in 1898 has been manufacturing luggage made of aluminum since 1937. The design, unique for its time and the superb stability of the luggage with the grooves are becoming state of the art. Rimowa set new standards in terms of lightweight luggage by a visionary far-reaching decision to use new technology in luggage production. Rimowa was the first manufacturer in the luggage industry to make use of polycarbonate. Within ten years, lightweight polycarbonate collections by Rimowa changed and conquered the world. Rimowa's polycarbonate luggage is feather light, extremely durable, almost completely shatter-proof and able to withstand tremendous pressure. Resistant to UV, hot and extreme cold weather. And the strong exterior is complimented by their smart interiors. Innovative functions, the most state-of-the-art technology, convenient features and fashionable colors are just a s much an integral part of Rimowa as it's famous grooved design.


If you are in Detroit, please visit our Midtown Showroom. Here you can see all these Rimowa collections up close.
If you don't see what you are looking for or if you have any questions, please feel free to call us. 877 370-2353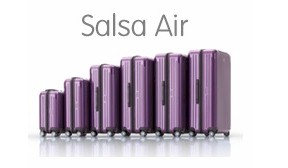 Salsa Air
Rimowa's super light weight Salsa Air collection is 26% lighter than the classic Salsa series but just as strong and robust. Constructed with ultra light weight polycarbonate, the series will return to its original shape if compressed automatically as soon as the pressure is released. Water resistant zippers, practical interior division with a light weight divider on each side of the case top keep your clothes in place during travel. And the innovative ABUS TSA recognized locks are incorporated into the zipper systems on all Salsa Air cases.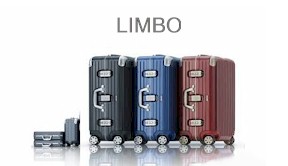 Limbo

Rimowa's elegant Limbo collection features Rimowa's signature grooves in shiny Black, Night Blue or Carmona Red. The 100% polycarbonate cases are extremely durable, scratch-resistant and shock-resistant. Sturdy aluminum frames, aluminum corners and a luxurious interior further enhance the durability and design of the state of the art Limbo cases.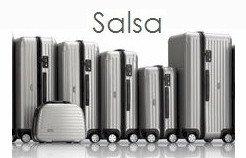 Salsa
Rimowa' The world's first polycarbonate suitcase. Rimowa invented the Salsa polycarbonate suitcase in the year 2000. The innovation revolutionized luggage. Rimowa has continued to further develop its Salsa line ever since. The guiding principle however has remained unchanged. Salsa unmistakably combines minimum weight with maximum durability. Salsa in available in ma sizes, the color choices all in Matte Finish are black, grey, blue and bronze.



Topas Silver Aluminum
In 1950 this collection was originally developed for tropical travel, these cases with their robust shell of aluminum magnesium are still today among the lightest and most durable luggage in their class. The silenced Multiwheel® system of the Topas, with its smooth-rolling wheels, enables optimum maneuverability and makes it particularly easy to steer the case.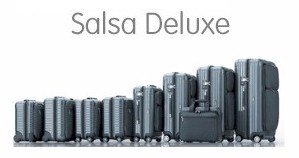 Salsa Deluxe

The Rimowa Salsa Deluxe has the same great look of the Salsa Air but with a few built in bonus features that only enhance this durable yet stylish luggage. The Salsa Deluxe includes color accenting on exterior hardware, inside dividers, upgraded padded grip handles and telescoping handle, and interior fabric in an accenting color.